BikR Kit
Because biking beats lugging. Every. Single. Time.
Behold! This magical tow arm connects your RollR to your bike, and that means two things. One, your bike party just got more awesome. And two, you now don't have to rely on four wheels to haul your stuff back and forth from the park, market or outdoor throw down.
It's also lightweight and easy to use - the bracket installs in minutes. Just pop off the plate and replace it with the tow bracket and you're on your way.
**Due to overwhelming (and flattering demand), accessories may ship separately and a little behind your RollR!!
Customer Reviews
Write a Review
Ask a Question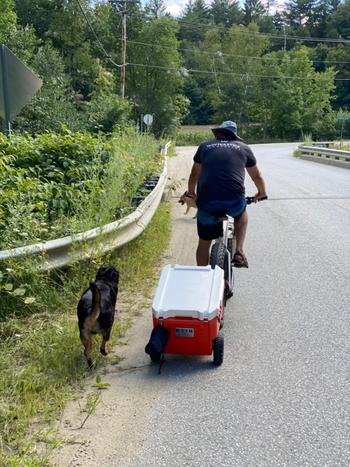 09/04/2020
BikR Kit is fun!!
We hooked up our RovR cooler to fat tire bike using the BikR Kit and took off for our favorite river beach spot. 20 minutes of single track, double track, a cornfield and a rock beach later we were comfortably set up and enjoying our favorite beverages!
Piquette D.
United States
08/15/2020
Genius!
Buttery smooth. Connection is tight and fast. So awesome
Douglas M.
United States
07/30/2020
A Solution To a Future Problem
So far, my only experience with the bar has been attaching the plate adapter to the Rovr45 cooler. Since my wife and I recently moved into an Active-Adult community, which has plenty of parks, swimming pools, and nature trails we know that this type of tow assembly will come in handy ... provided that we purchase bicycles to hook it up to.
Gary T.
United States
07/26/2019
It works!
I like that it works. Yay
Dan B.
United States
06/13/2019
Needs improvement
I got the cooler and many attachments and all were great except the bike attachment. It is very difficult to hook up and especially unhook from the cooler. The part attaching to the bike works fine. I have child carriers (Chariot, now owned by Thule) that attach to a bike also and their mechanism is much smoother than this one. My wife could not do it at all on the Rovr. The button doesn't push in very easily (I never could do it with my fingers - had to use another piece of metal to push it down hard enough) and the bar doesn't slide in and out smoothly either so even hooking up is hard. Overall, just needs improvement. Once attached though it's fine and a great help going to the beach on our recent vacation.
James E.
United States